We are happy to announce a new product line has been launched here at ElectricSolenoidValves.com. Our customers have expressed an interest in adding check valves to their systems, so in an effort to be a one stop shop for your fluid control needs, we now carry a full line of stainless steel check valves.
The two different types of check valves (aka non-return valves or one-way valves) we now offer are spring loaded vertical check valves and swing check valves. Both options are constructed of high-quality stainless steel, with NPT ports that are suitable for water, air, fuel, and chemicals compatible with stainless steel and PTFE gaskets.
Check valves are an affordable and useful solution to prevent backflow in fluid control systems. This can provide pressure relief for system safety, prevent contamination from reverse flow, and prevent backflow from damaging equipment (such as solenoid valves) upstream.
Both valve types operate autonomously, allowing media to flow unidirectionally. A change in pressure or direction in the flow of media will automatically trigger a mechanism in the valves to quickly shut down any backflow.
Swing Check Valves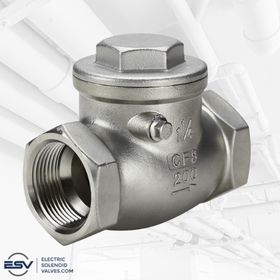 (Aka tilting-disc check valves)
Available Sizes - 1/2" up to 2" NPT
How it Works -
Inside the body of a swing check valve is a disc that swings freely on a hinge. As water or other media types flow through the unit, the disc swings forward, opening a pathway. Backpressure and/or gravity will swing the disc back into its resting position to close the valve, stopping any possible backflow.
Due to the mechanisms of a swing check valve, they are ideally installed horizontally, but can be installed vertically when the fluid flows from the bottom up.
Vertical Check Valves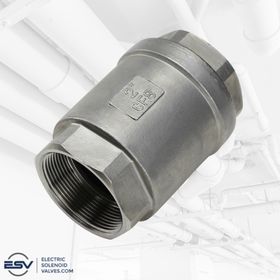 (Aka spring check valves and spring-loaded check valves and silent check valves)
Available Sizes - 1/4" up to 3"
How it Works -
As the name implies, these types of check valves can be installed horizontally or any vertical orientation, unlike a swing check valve. Inside a vertical check valve is a stainless steel spring that will keep the valve shut if there is little to no pressure* going downstream, or if the flow from upstream is enough to break the cracking pressure of the spring. The spring opens the valve once the downstream pressure is highest, allowing the media to flow only in that direction.
*Each size vertical check valve has a specific "cracking pressure", which is the amount of pressure required to push the spring, opening the valve.
Have any Questions?
Our team of valve experts are available to help answer any questions you might have about our check valves or any other products available at ElectricSolenoidValves.com. We are available during regular business hours via phone, website chat, and email.